How to find Top Texas Web Designers
Finding the right web designer in Texas for your new website is a daunting job. You have a responsibility to guarantee your design agency can deliver your website. Working with designers allows your business to develop websites unique to your business highlighting its strengths. Having an agency means working closely with talented designers and creating beautiful sites. If you own a business in Texas, you will find numerous web design and web development companies to help with your site development needs. Using a local company offers many advantages as opposed to working with an international company.
Questions to Ask Your Texas Web Designer
When it comes to choosing a web design company, it's important to do your research. However, with so many web design companies out there, how do you know which one is right for you? Here are a few tips on how to choose a web development company in Texas:
1. Take a meeting and get a feel for the company. Who are they? What type of projects do they usually work on?
2. See if the person in the meeting is who you will be working with or a salesperson. Finding the right size organization where they have a high level of expertise and yet are not treating clients like just a number usually results in the best outcomes.
3. Ask about their process and experience. Will you have a project manager, work with a design team, or will you work with one designer? Is there a limit to revisions, if so, how many?
How much does web design in Texas cost?
Website design services will typically cost you between $25 and $150 an hour. Another option professional web designers in Texas offer is the cost per project. The costs of such services will vary depending on whether the business has the same requirement or goals. We would recommend choosing a company that offers you a complete project proposal as opposed to hourly providers. Total costs are usually determined by several factors including size, complexity, functionality, and timeline. A top web design agency will usually start no lower than 10k and can easily go above 50k for a website. Award-winning agencies will be on the higher end of that range. The good news is that there are great design agencies that can deliver a quality website below that price. We here at Webfluence Design offer websites starting at just 3k. Tech Hubs like Houston and Austin Texas tend to have the most options for you to choose from and the most developed agencies.
Determine goals for Your Texas Web Design Service
When selecting a Texas website development company, it is beneficial to know what your goals are for your website. As a business owner, it's important to have a clear understanding of your goals for your web design service within the context of your business (a good design agency designer can help with this). Without this, it will be difficult to gauge whether or not your website design is meeting your needs. Here are a few things to keep in mind when determining your goals for a web design service:
1. What is the purpose of your website? Are you looking to sell products or services online? Are you looking to provide information about your business? Knowing the purpose of your website will help you determine what features and functionality you need from your web design development.
2. Who is your target audience? Knowing who you want to reach with your website will help you determine what kind of design and content you need. For example, if you're targeting young adults, you'll want a more modern design than if you're targeting seniors. Are you a B2B or B2C business?
3. What will your web design plan look like moving forward? Do you want the design agency to offer ongoing services or educate you on how to manage the website design in the future?
Additional Services for Your Texas Web Design Project
In Texas, custom web designing projects can go beyond just website designs. Let us see the other services available for your website in Texas. Today, a successful website design involves a lot more than just something that looks nice. Would you like to be found on google? Then you need Search Engine Optimization. Would you like visitors to contact you? You'll need analytics and CRO specialists. Do you need web marketing and social media marketing? Most web designers in Texas are not full-service agencies and only offer a few of these services so you may need to hire more than one organization and coordinate accordingly.
The best CMS platform for Texas websites
The basis of your Texas website will be the software that you use in the design. Web designers are highly skilled and have experience on one or many different platforms. WordPress is the largest open-source website development platform with the largest market share in the state. While WordPress offers many different content management platforms we find it the most flexible and responsive solution.
There are also custom-built websites that will have much higher costs and ongoing maintenance will also be more costly. However, depending on the stage of your business and its needs, a custom solution may be best for you.
How to find Texas Web Designers, Web Developers, Marketing Agency, Digital Marketing Agency, Mobile App Development, and more…..
As most of us do a quick google search will pull up the web providers with the most reviews locally, however, these providers are often the most expensive also. So how do small and mid-sized businesses decide on quality providers that won't break the bank? We went to several review lists and filtered them by criteria and have linked the lists below.
Next, after looking at these lists you should contact the agencies you're interested in and schedule a consultation. This is a great opportunity to ask questions, get more information about their process, and see if they're a good fit for your project. Finally, compare proposals and choose the agency that you feel confident will help you achieve your goals.
Recommended List to find Top Texas Web Designers:
Design Rush allows you to search for the Best Texas Web Design Agencies and allows you to filter by state, city, and area of expertise. You can then sort by what is important to you. We found this the most useful tool out there whether you are looking for award-winning digital agencies, a web development company, video production, mobile app development, search engine optimization, or just a web designer in Texas.
They state "Our expert analysts determined the leading web design companies in Texas that design high-performing, engaging and affordable websites. Use our filter to personalize your search for the best fit and choose a partner to help foster business growth."
Design Rush was clear and away our number one because they actually provided what they said. The agencies they provided were actually from Texas. It can be so frustrating when you are searching for say "web designer Texas web design companies" or something like that and the ads and links take you to companies from all over the United States or the world.
Other Lists to mention when searching for a Texas Web Design Company:
As stated in the paragraph above, some of the agencies we found on these lists were certainly impressive but they didn't link to agencies that were really in Texas! It seems many web design agencies and nationally award-winning web developers have found a way to trick these platforms by stating that they are in Texas, but when you go to their website, you discover they are not based in Texas.
This list was really informative and states at the top "List of the Top Web Designers in Texas." I got interested in many of the providers offered, however, upon further investigation, I found that most of the web design companies on the list were actually in New York, California, or somewhere outside of Texas.
Clutch looks to be a popular choice and ranks well on google because of its quality of service, so all of that is good, and yet, finding a company that is actually in Texas is difficult. Clutch does offer a speak-with-an-expert option to help you with your choice and they would be happy to have a conversion to find the right match for your needs.
Companies such as Chevron, Docusign, and Comedy Central have trusted Clutch to meet their organizational needs.
This list features top web design companies with information about each company and the ability to filter through them based on your criteria. They even have an advanced filter that searches by company size (freelancer to 10,000+) and certifications. The disappointment again was many companies that state their location as Austin Texas was actually based somewhere else when we went to their website.
Their website states "Searching for best web design companies in Texas? Here is a list of best web designers in Texas to cater you with fast & responsive custom website designs. A professional web design shows off true brand colors along with the message that is to be delivered to the visitors of that website. In order to give users a smooth experience, intuitive navigation with responsive design that allocates multiple devices is necessary. Hence, hiring an in-house team of website designing experts or outsourcing services from one of the best web design agencies in Texas is important. GoodFirms has therefore curated a list of best web design firms in Texas below:"
While Goodfirms seems to be a great service and their statement appears to be true except for the "in Texas" part, we would still recommend giving them a chance in your search for a web design company.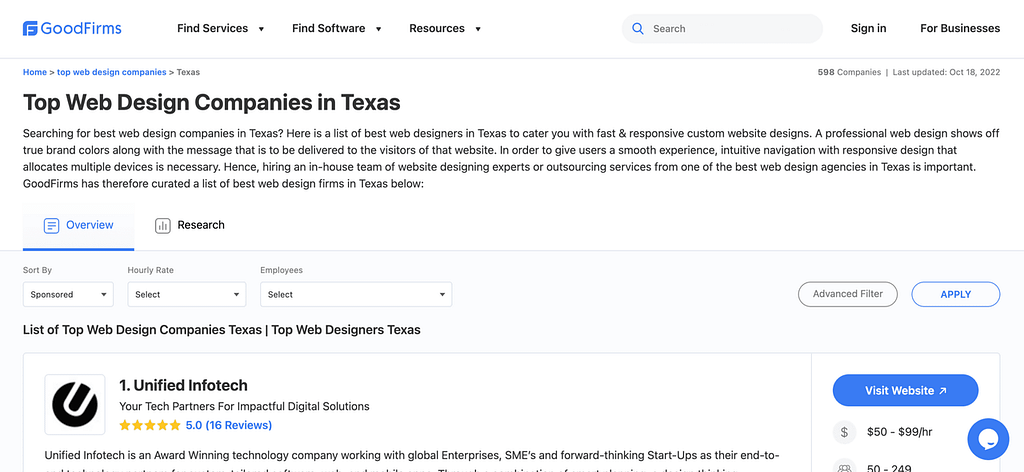 Lists to find Freelance Texas Website Design and Web Development:
Unfortunately, finding Texas-based website design freelancers is hard to do. The sites that offer per-project contract freelancers for web development, digital marketing, social media marketing, and more do not allow you to search by state. As a result, you are often working with someone in some other part of the world and in a different time zone.
Fiver is a popular freelancer site to find all types of digital solutions for your next project. The quality varies wildly and it can be difficult to find a provider that will deliver to the quality you expect. Most of the web design and web development providers are located overseas. Usually, this is a case of getting what you pay for and little value. If you go this route, to your best to vet the provider.
Upwork states that its freelancers are based in the United States and seem to offer better quality freelancers in general than other freelancer websites. Forums debate whether many of the providers are actually based in the US, however, if you go this route, you can vet the freelancers yourself and see if they will meet your requirements for web development. You will not be able to search for Texas web design or Texas web development. Most of the website design services run $50-200/hr for top talent. This would leave an open number on your website design project.
Conclusion (How to find Top Texas Web Development – Rankings)
The best way to find a Texas Web Design Company, Web Developers, Marketing Agency, Digital Marketing Agency, Mobile App Development, and more is to search online. There are many websites that list these businesses in one place, the best one we found was Design Rush. If they absolutely mush be local, looking at local google search results on the map can give you a starting point. You can also read reviews of the businesses before you contact them. When you find a business that you are interested in, make sure to speak with them and ask questions about their services.
Remember, we at Webfluence offer web design services and will show you what your website could look like for free! Yes, we will show you a website design for free. Webfluence will take a look at your current site, or get a quick brief of what you are looking for if you don't currently have a site and put a website design together for you!